Conestoga XP
by Aero Industries
An innovative tarping system that turns your flatbed into a fully covered van and back again in a matter of seconds... The Conestoga XP gives you the versatility of a flatbed and the security of a van trailer at the same time. It's ideal for whatever you're hauling: steel, aluminum, machinery, and other weather-sensitive cargo.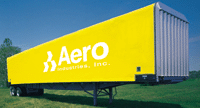 Available in Straight, Flatbed and Drop Deck or Custom Models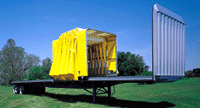 Maximized load heights keep tarp from contacting load. Optional triple uplift bows provide even greater clearance.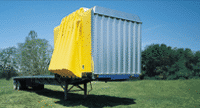 Weatherproof, watertight, load security
A Breakthrough In Tarping Systems For The Next Century
Custom-engineered to fit your trailer specs and adds convenience and versatility to your load-hauling experience. Designed for security, smooth operation, and increased productivity with operator safety in mind. The Conestoga XP features a unique locking system that is entirely ground operated without difficult to manage straps or ratchets.

Bulkheads
Lightweight, durable aluminum construction
Built-in aerodynamic design
Available with optional access door
Many designs and options available

Wheel Track Systems
Pressed bearing steel wheels
Stainless steel insert
Heavy duty extruded aluminum track
Built-in bump rail

Variety of styles available to fit the way you work
Sturdy swinging doors
Simple pull curtain
Convenient roll curtain

Tarps
All tarps are 22 oz. single piece with white skylights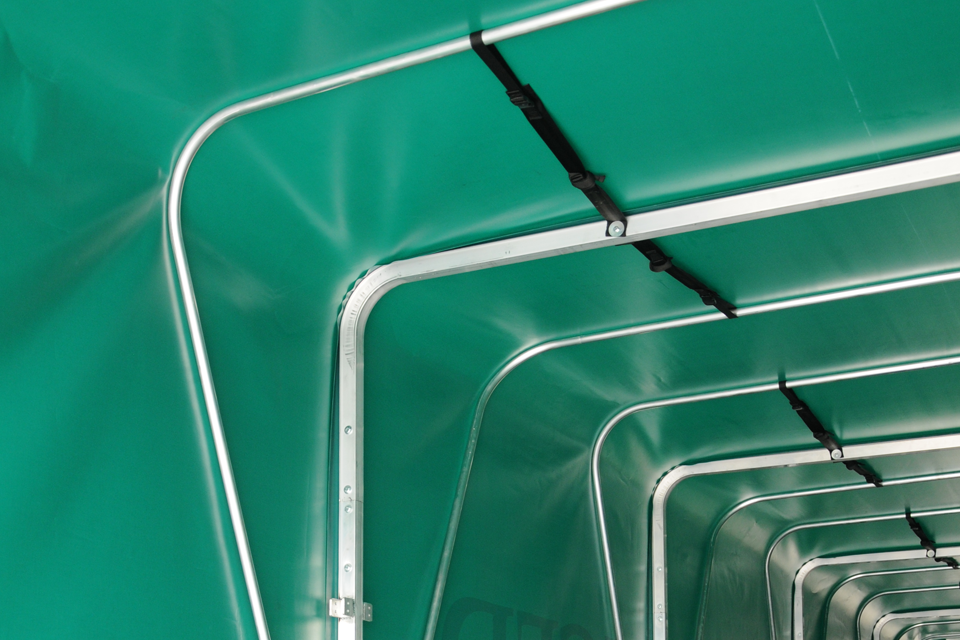 Uplift bows reduce tarp sag to maximize inside loading clearance. Bows come in double, quad, or quint. Patented spring shocks on uplift bows reduce vibrations from road conditions and maximize tarp life. There is less wear and tear on the tarp, while being virtually maintenance-free and not replacing hardware.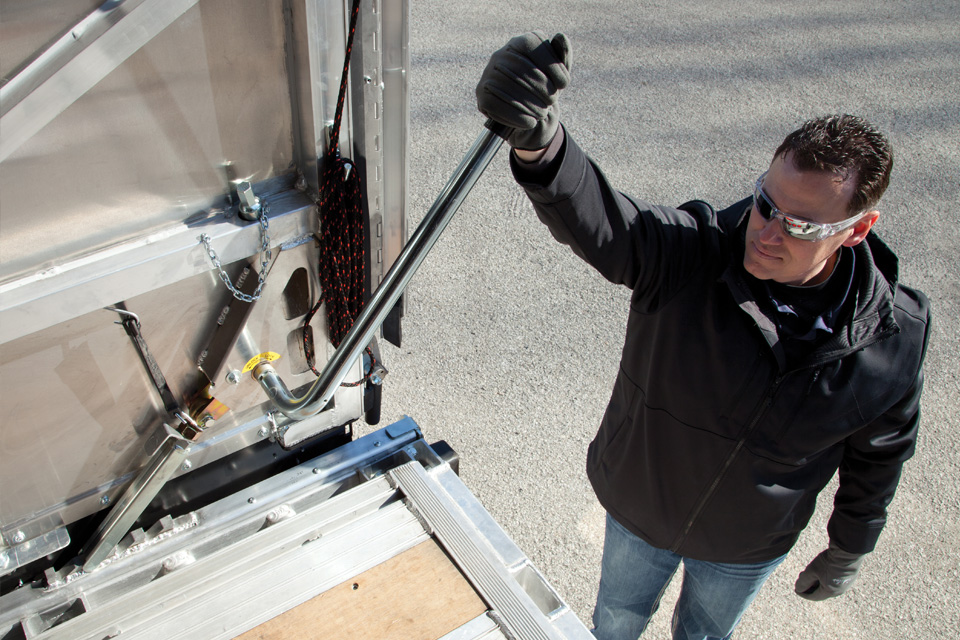 Rear speed locks are operated from the ground for increased safety. Single motion release provides fast operation. There are no cumbersome straps to remove or store. All lock components travel with rear bow assembly allowing for full loading width at the rear. The rear lock allows for optimal tarp tension. There are operation capabilities from the inside and outside.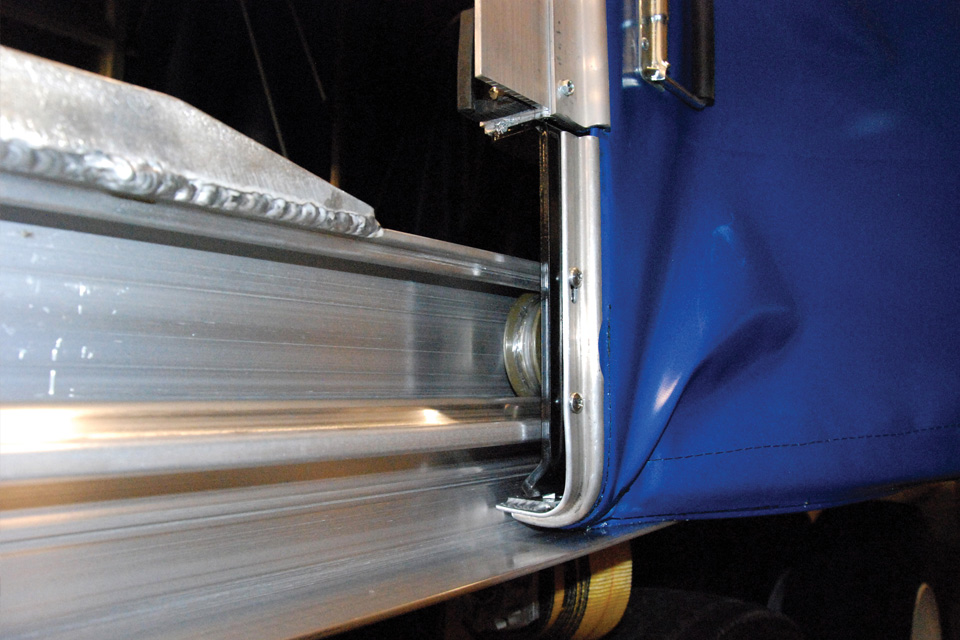 The steel wheels on the Conestoga XP® glide easily on a stainless steel track insert allowing for smooth opening and closing. A patented built-in bump rail protects track from forklifts and other loading hazards. Sealed bearings require no maintenance and the wheels are covered by a limited lifetime warranty.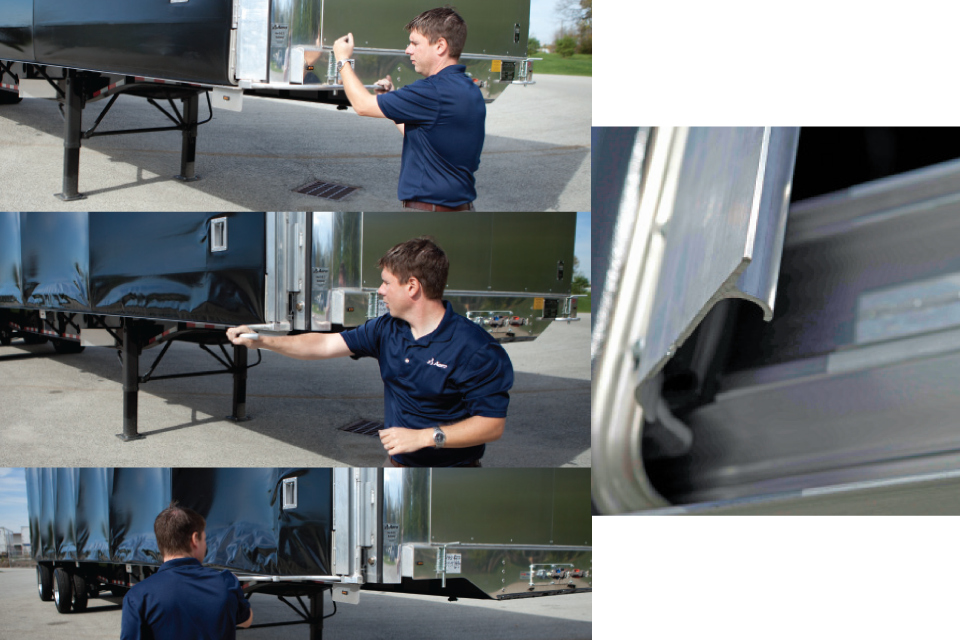 Front speed locks are operated from the ground for increased safety. A double toggle latch tightly secures the front bow to the bulkhead without cranking and ensures positive locking and watertight seal. The front of the system locks and unlocks while the tarp is locked in the rear. Few moving parts require very little maintenance.
Available Colors:
Green
Orange
Red
White
Brown
Yellow
Black
Blue
NOTE: Colors are for reference only. To acquire an accurate color swatch please contact Truckhugger Tarps at (800) 423-3042.
Aero and ConestogaXP are registered trademarks of Aero Industries, Inc.