T-5 Trash Transfer Trailers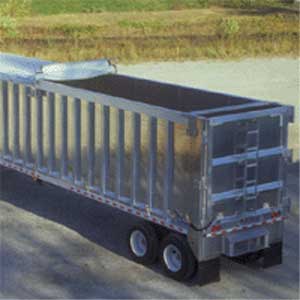 Save Time And Secure Your Load Safely And Easily With Aero's T-5 Tarping System provided by Truckhugger Tarps.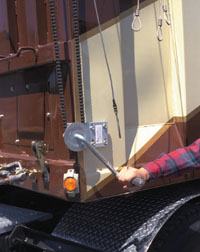 The T-5 system's crank is easy to operate. The handle folds out ofthe way when not in use.
Front position- pulls down to secure tarp in the open position andlies flush to clear overhead obstacles.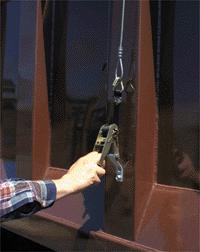 Safety cable ties provide extra security.
Cover trash transfer trailers quickly, easily, and securely

Provide ground-level operation for convenience and driver safety

Eliminates climbing

Provides maximum safety

Secures loads quickly and easily
T-5 Specifications
Tarp: Super-strength woven poly mesh fabric with high-strength vinyl

reinforcements to reduce tearing and cutting

Cable: High-strength steel aircraft cable

Bow Mechanism: Weight-saving, durable, high-strength aluminum alloy

Sheaves: Custom deep-groove steel

Other components: Enamel-painted steel
T-5 Features & Benefits
Unique cable design: The T-5's strong mesh tarp slides easily along high-strength steel aircraft cables. The cables are positioned to allow the tarp to seal tightly against the trailer's top rail

Ground-level operation: No more dangerous climbing on high trailers to secure your load! The T-5 system is operated from ground level, making it both faster and safer than other tarping options

Easy Cranking: The T-5 system's crank is easy to operate, with multiple handle positions for user comfort and convenience. When not in use, the handle can be turned toward the trailer. To save even more time and effort, a powerful electric motorized version is also available

Cable Ties For Extra Security: Safety cable ties fasten quickly and help keep the tarp and cable from rising above the trailer in windy conditions

Specially Designed Bow For Heaped Loads: The T-5 system's bow was created especially to move up and over heaped loads. Its unique, double-action springs allow the bow to seal against the front and rear of the trailer

Easy Installation: Pre-assembled parts make for fast and easy installation

Clear Loading: When fully open, a 45-foot T-5 tarp occupies only about 20 inches at the front of the trailer, giving you nearly the entire length of the trailer for loading