Sliding Bow Cable System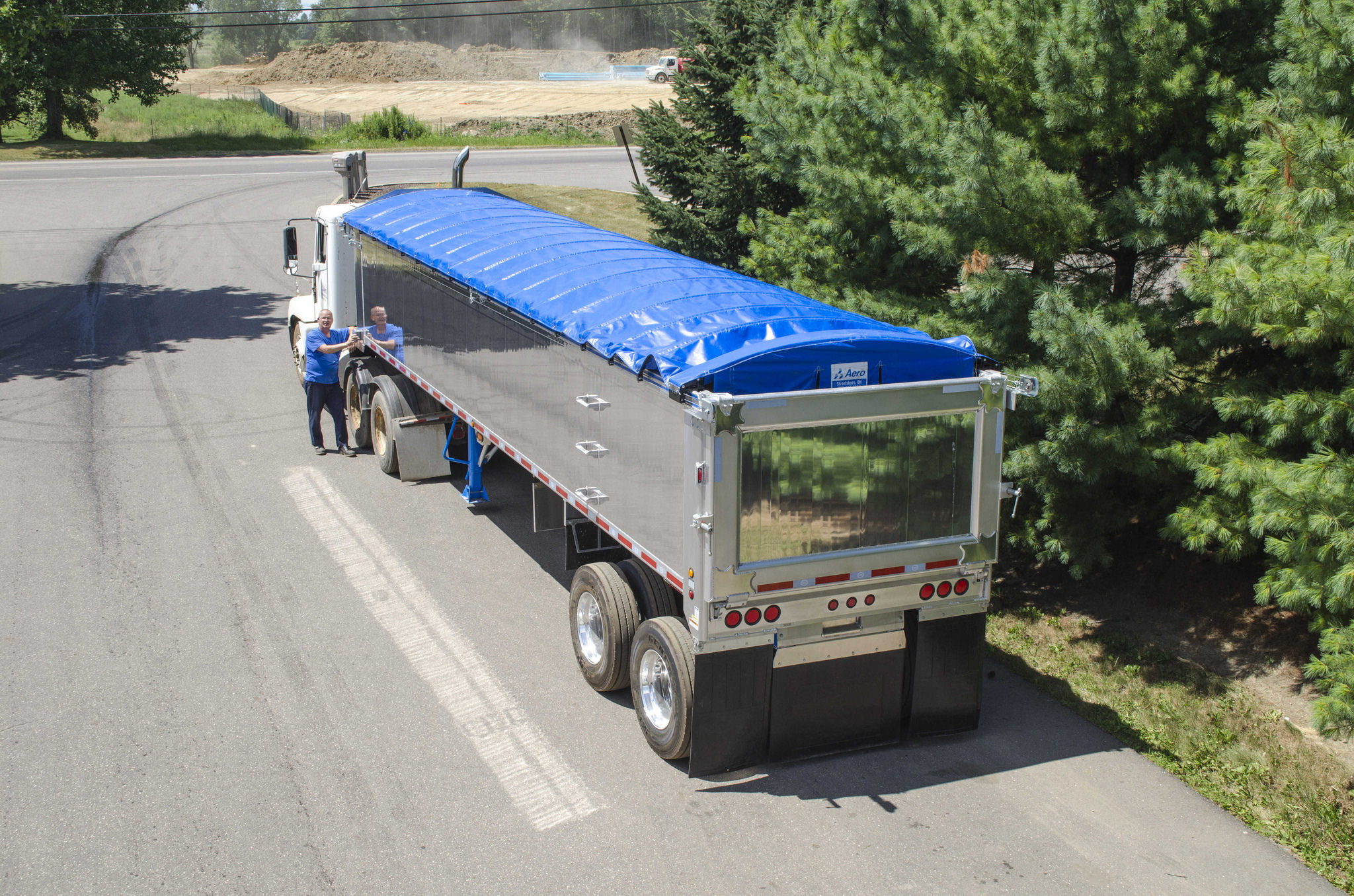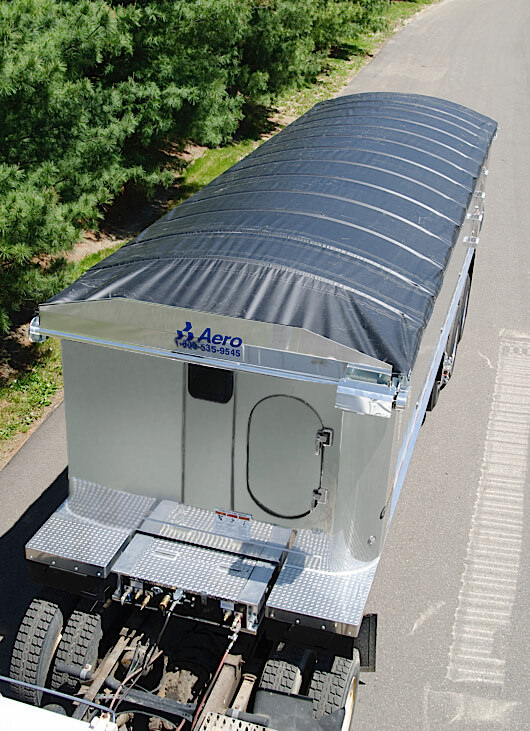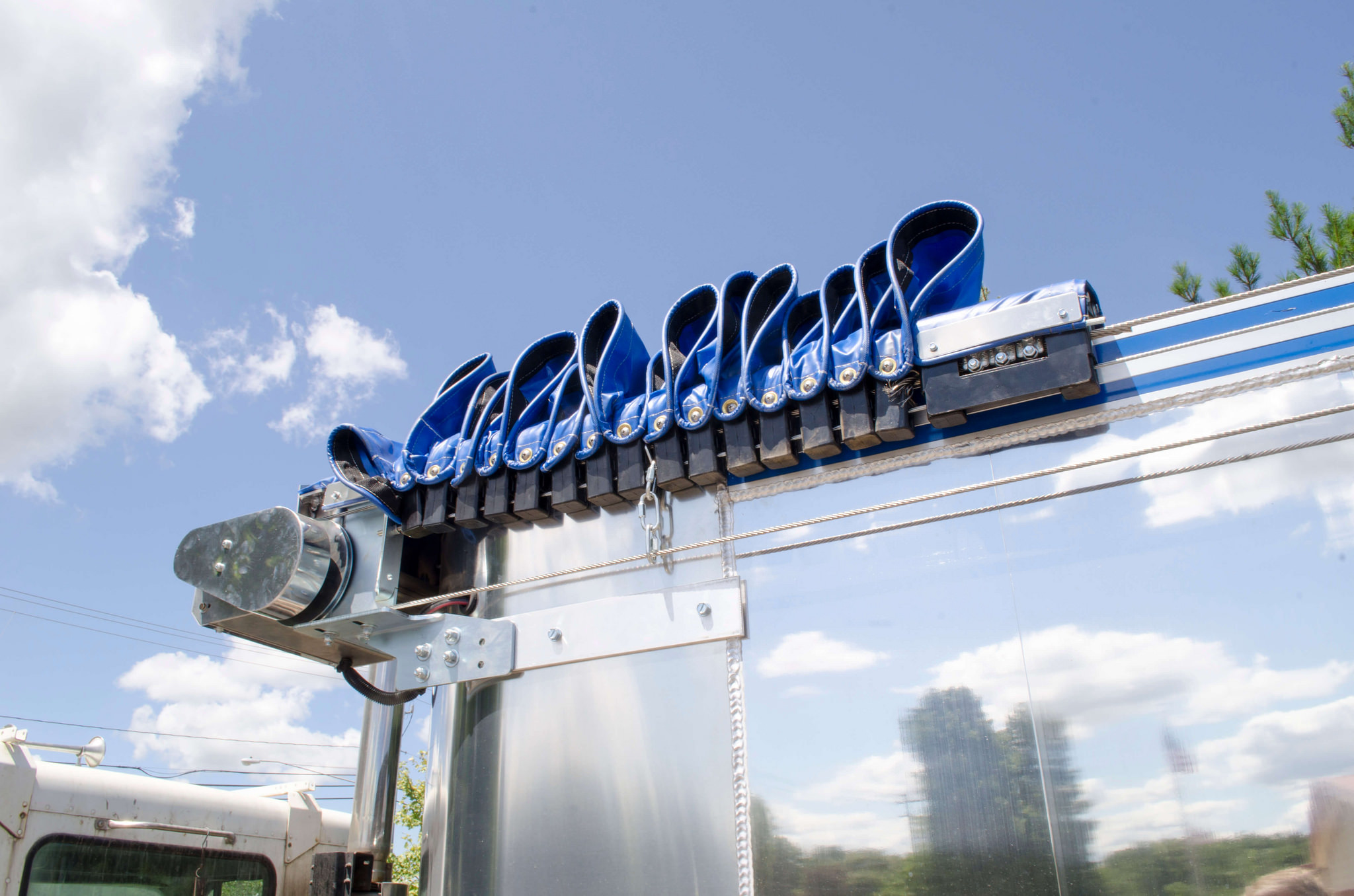 Anti-Lift

Postive locking prevents tarp and bows from lifting

Smooth, easy operation

Low profile, prevents damage from loaders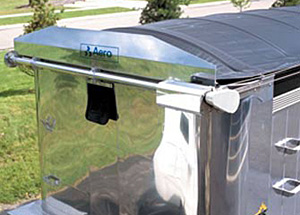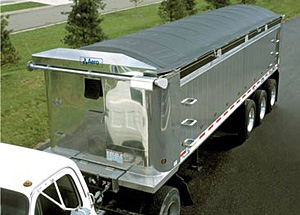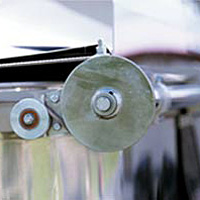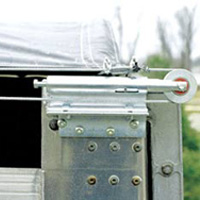 Aluminum Front Assembly

Self-connecting cable adjustment

Automatic cable tensioning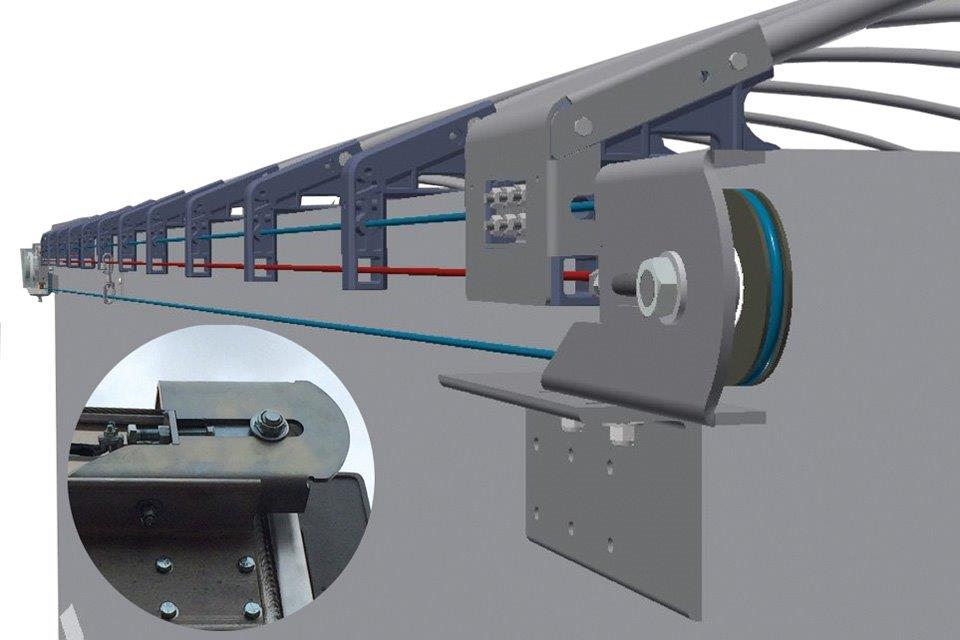 The rear idler's heavy-duty construction allows for greater durability. The cable tensioning bolt is positioned at the front, creating less interference when opening tailgate in a barn door application. The idlers are side-to-side adjustable allowing for easy alignment with front drive pulleys.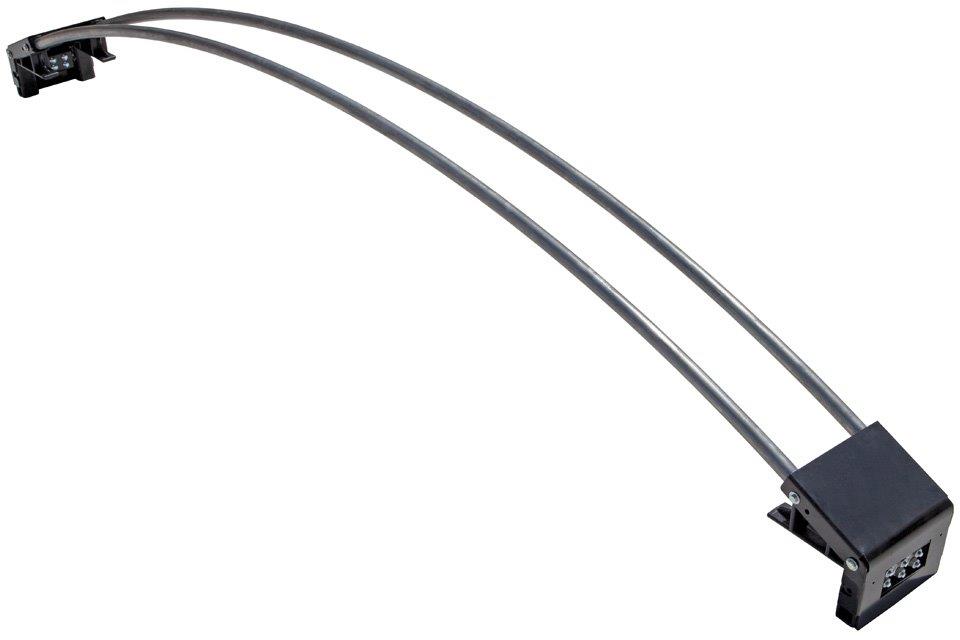 The reinforced double rear bow adds extra strength. Integrated cable clamps add to clean design allowing for easy installation.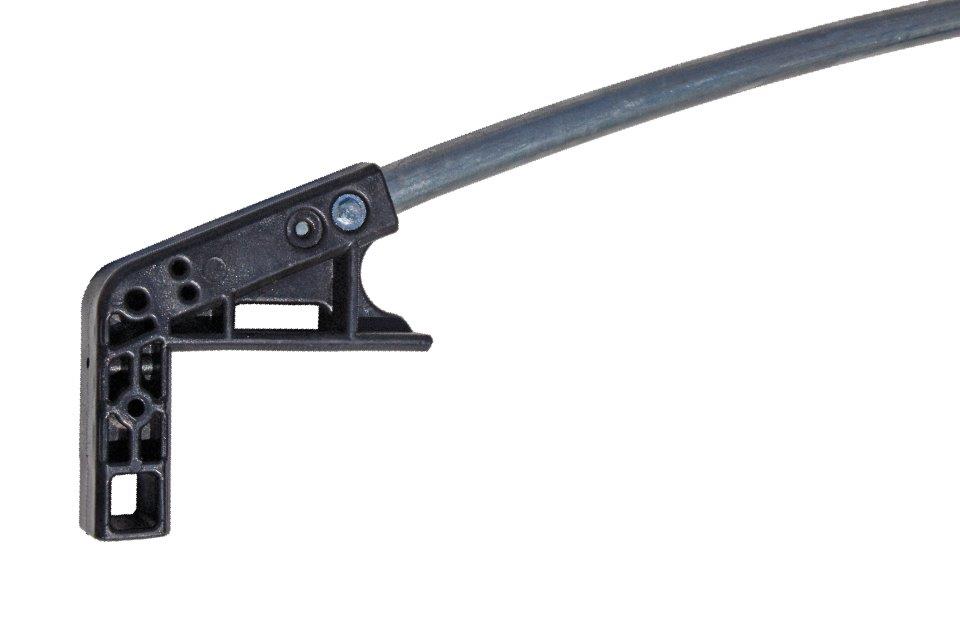 The bows and removable bow ends are constructed of strong, steel tubing designed to slide easily along cables. They are located every 30" to cover your load securely. 12", 6", flat and other rises are available. Plastic glide bow ends create less friction, which allows for easier sliding on the top rail. Removable bow ends allow for bow and tarp replacement without removing drive cables. Removable bow end and anti-shift are built-in with optional anti-lift.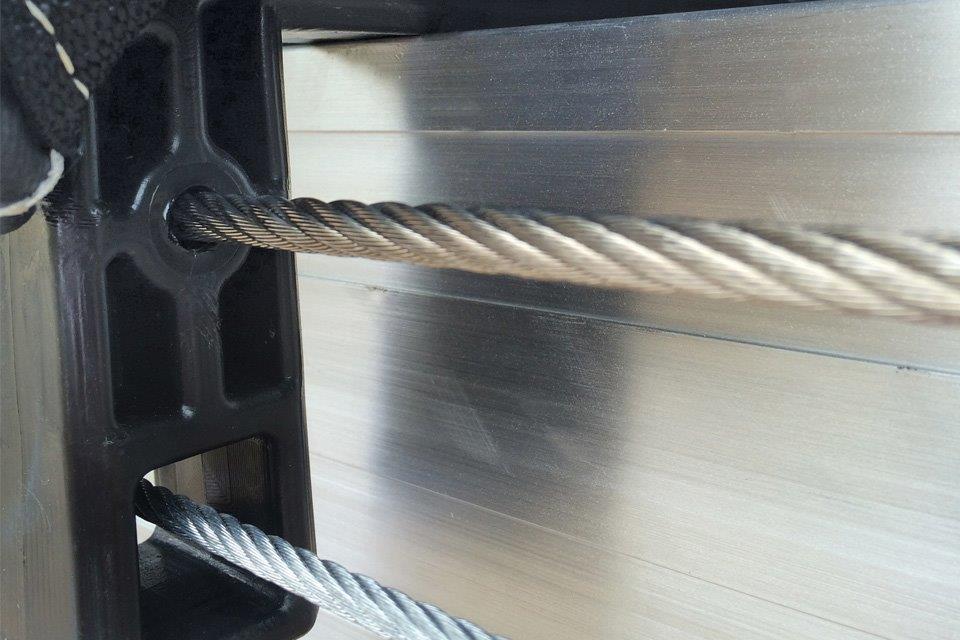 Anti-shift is a standard component on all Crank-N-Go 3 kits, designed into the bow end. Every bow is equipped with anti-shift.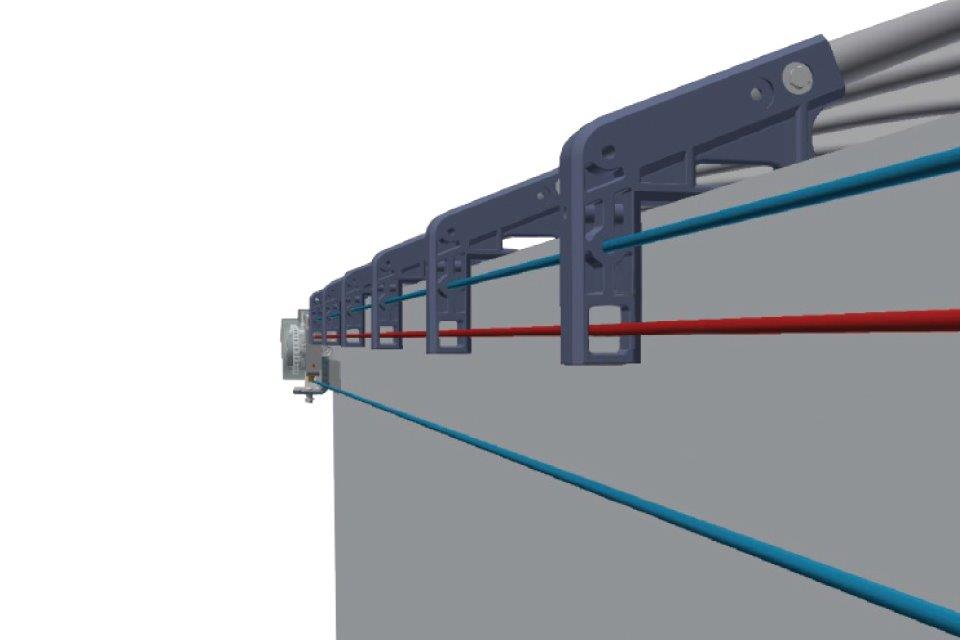 Fixed cable constantly holds down tarp to enhance security and wind-resistance--continuous anti-lift, regardless of where tarp is positioned. Bow ends glide easily along a stationary cable, eliminating the need for industry standard anti-lifts. Anti-lift and anti-shift built into every bow end.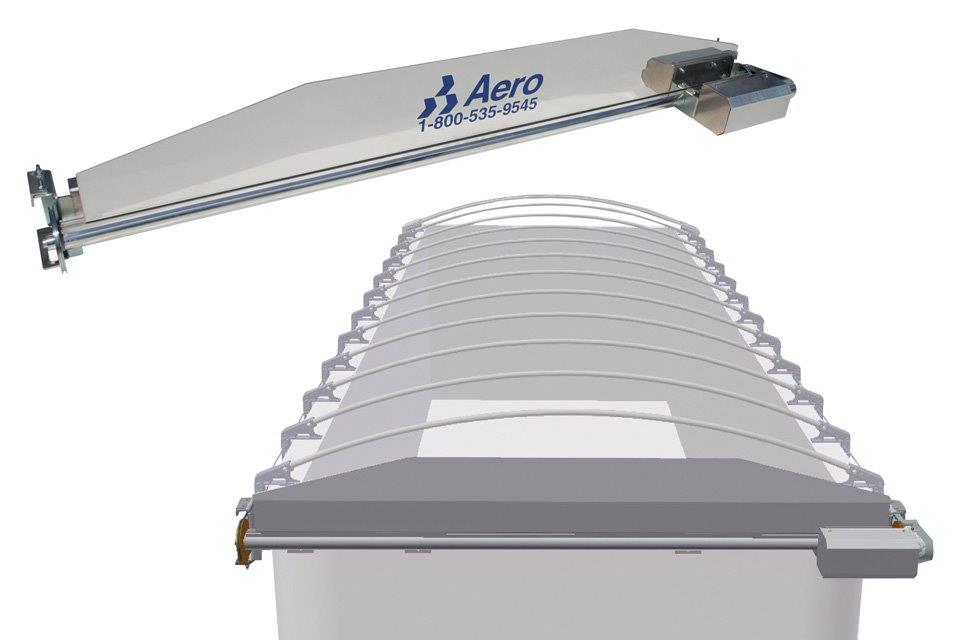 The aluminum front assembly is attractive and lightweight with a hidden axle and second idler that reduces cable slippage. No painting is required.
Incredibly Simple and Economical
Safety, Security, Dependability, and Productivity; Just Crank-N-Go! Now tarping a dump is no trouble at all! With the Crank-N-Go tarping system from Aero Industries, you're covered in seconds -- with no climbing, no rope to tie down, no hassles. Crank-N-Go has a durable tarp attached to strong bows that slide along cables mounted on each side of your dump body or trailer. For extra safety, Crank-N-Go is operated from the ground or the cab. Just turn the crank on, flip the switch, and the tarp and bows slide forward or backward over your load. It's that simple! We've made significant improvements to Crank-N-Go over the years, too. Our newly redesigned AX4 model features an attractive, aluminum, lightweight front assembly, adjustable rear idlers, and a new anti-lift device that works together to keep the tarp secure and operational better then ever before. Plus, Crank-N-Go is easy to install, maintain, and operate. It comes with a one-year warranty on all parts. And if you should ever need assistance, our customer service technicians are just a toll-free call away.
Aero and Crank-N-Go are registered trademarks of Aero Industries, Inc.